Ballet Russes
One-of-a-Kind Art Jewel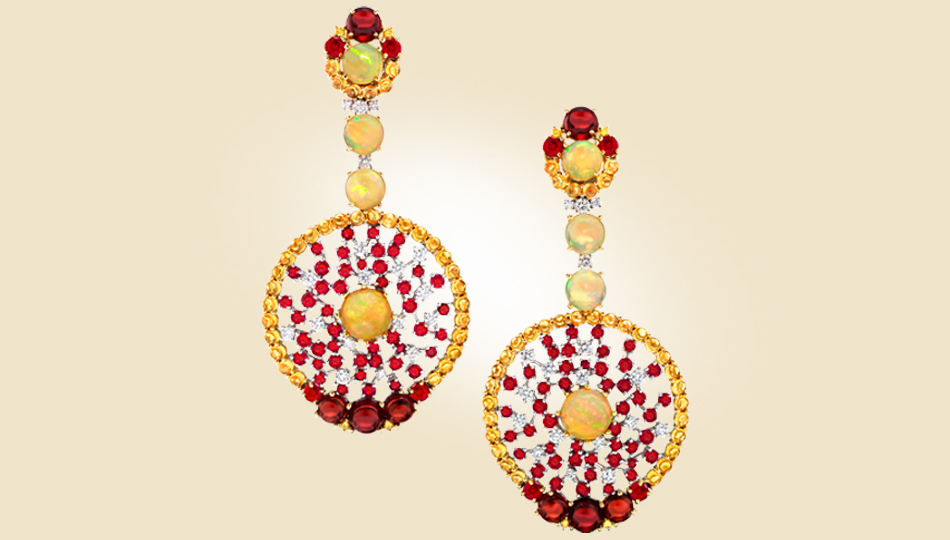 Early in the 20th century, the choreographer Serge Diaghilev altered the concept of classical ballet by introducing Parisian audiences to unusually athletic Russian dancers and wildly colorful sets and costumes.
Designers such as Leon Bakst melded influences of the Ancient Near East. Creatively combined Indian and Cambodian inspired clothing and headdresses, and included abstract, cubist, and surrealist art among his influences.
These designs created ripples in the design world including with jewelry designers of the time. Abellan's Ballet Russes earrings capture the drama and striking colors of Bakst's costume and sets.
The one-of-a-kind drop earrings feature exotic Ethiopian Opals, Mandarin Garnets, Mozambique Garnets, Rubies, and fancy Yellow and White Diamonds. Crafted in New York City. Stamped 750. Yellow and white gold. This creation is signed by the Artist and numbered.