Venetian Symphony
One-of-a-Kind Art Jewel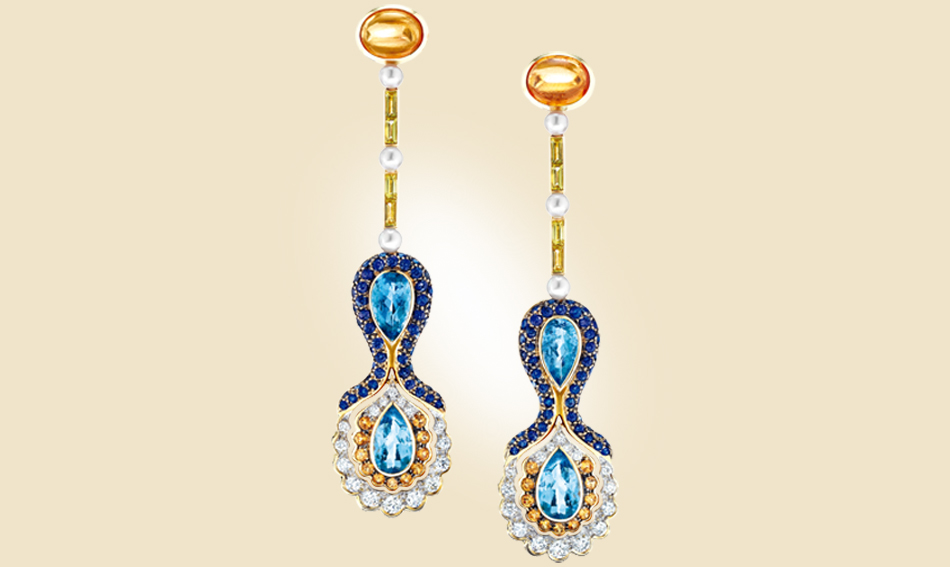 At the end of the Renaissance period the Scoula Veneziana (School of Venice) took Italian art in a new direction. The new form of art made an important contribution suggesting new ways to use color and was especially known for the interplay between color and light in paintings. It was also expressed in eclectic architectural facades dominated by indigo and golden hues surrounded by the captivating ubiquitous water that epitomizes Venice.
Abellán, upon visiting Venice, was greatly influenced by the development of the use of color. Abellán's Venetian Symphony Ear Pendants, feature gemstones that reflect the blues and golden palette she experienced and form this gemstone masterpiece. This kinetic jewel sculpture features aquamarines, Mandarin garnets, yellow sapphires, highlighted with white diamonds, Akoya pearls and delicate flashing blue sapphires evoking rich Venetian spirit. One of the notable gems used in this masterpiece are the exotic Spessartine Garnets, more commonly known as Mandarin Garnets. This rare gemstone was originally found in Spessart area in Bavaria Germany; and later in Brazil, Namibia, Nigeria, Tanzania, Madagascar, Myanmar, India, Israel and California. Its extraction is only accomplished sporadically making them quite difficult to find.
This objet d'art is signed by the Artist and numbered.
This one-of-a-kind Abellán New York creation evokes the glamour and elegance of another time but is imbued with a contemporary slant that makes them eminently wearable.
This piece features White Diamonds, Aquamarines, Baguette Yellow Sapphires, Oval Cut Mandarin Garnet Cabochons, Blue Sapphires, Round Faceted Mandarin Garnets, and Akoya Pearls. Stamped 750. Yellow Gold. Crafted in New York City.