Sultan's Treasure
One-of-a-Kind Art Jewel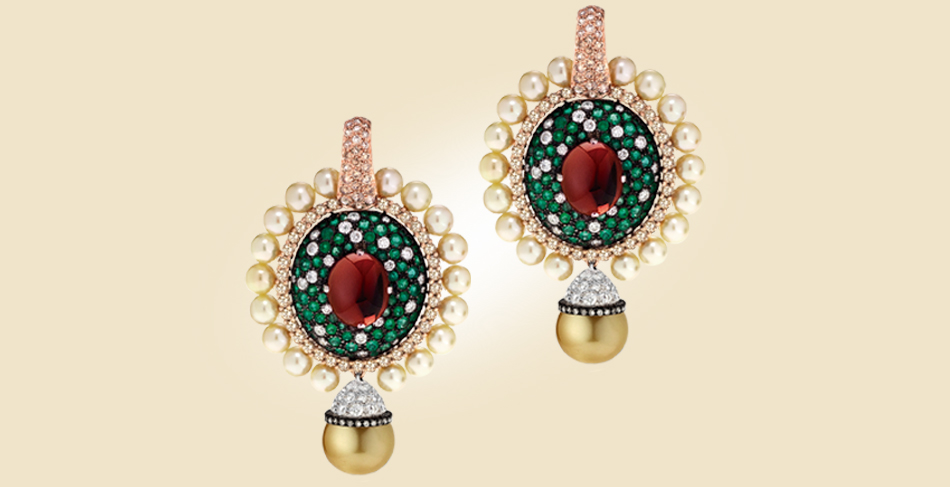 An enormous palace complex created by the Ottoman sultans from the 15th-17th centuries, Topkapi is rife with ornate and exotic architecture as well as priceless objects of precious materials and gemstones.
Many colorful stories are attached to this famous structure featuring sultans, courtiers, concubines, and scheming savvy who lived and worked there when it was the court of the Ottoman Empire.
Today it is a world-famous museum, with a treasury room that contains many objects made of gold and other precious materials, often encrusted with precious stones including the Topkapi Dagger, a golden hilt ornamented with three large emeralds and mounted a golden watch with an emerald lid. Its golden sheath is covered with diamonds and enamel. This dagger gained more fame as the object of the heist depicted in the film Topkapi.
Upon visiting this magnificent repository an Ottoman Empire's head ornament which bears a large emerald framed by a row of diamonds and pearls, also set with a ruby, took Abellan's breath away. After visiting Topkapi, in particular the Emerald Room of the Treasure section of the palace, the artist was inspired to create these magnificent ear pendants which blend African diamonds and emeralds as well as pearls of different colors. They evoke the opulence of the Ottoman sultans' lifestyles in their lush use of stones and their antique forms. These one-of-a-kind drop ear pendants would make any wearer feel like the wife of a sultan.
This creation features the use of white and cognac diamonds, emeralds. These stones are paired with exotic Mozambique Garnets. Golden Akoya Pearls and a South Sea Pearl are added as a signature element of the artist's creation, gracefully enhancing to the appeal of this masterpiece. Stamped 750. Rose, Yellow and White Solid Gold. Crafted in New York City. Signed by the Artist and numbered.